About Haryana Logistics Packers And Movers -Ludhiana
Haryana Logistics Packers and Movers is one of the no. 1 packings and moving company in Ludhiana. Having an experience of sufficient years and started with the visionary business concept of Mr. Sanjay Siwach, it has now become one of the most trusted companies that can give you the best packing and moving deals under one roof. Find out from the website what kind of multi-dimensional company we are, as we provide you domestic relocation, packing and moving, loading, and unloading, car and bike relocation, insurance, office relocation, warehouse and storage facilities, freight forwarding and all kinds of international shifting that can give better progress to all your packing and relocation requirements.
When you hire us as your packing and shifting partner, you will notice that we work in an organized and streamlined process. There is no extra processing charge, or layers of monetary amount that we keep asking you in installments. We as one of the top packing and moving companies in Ludhiana have demarcated our way of assessing all your goods through a pre-moving inspection that gives us an idea about how to pack each of the items that you have.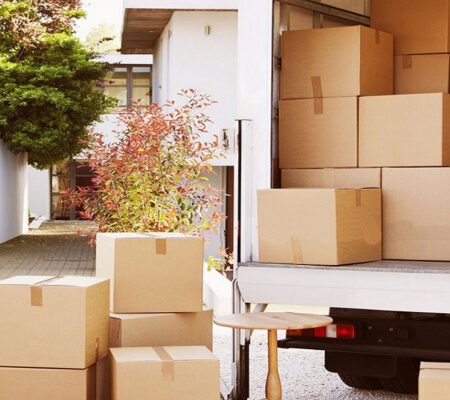 Who We Are- Haryana Logistics Packers And Movers
Home relocation and any kind of domestic packing remains haphazard if you use the ineffective DIY methods, and hence, the only consolation can be when you hire a professional, certified, and well-established packing and moving company in Ludhiana like us. Right from the smallest items in your kitchen and bathroom closet to the books in your library, we take every precaution to move them very carefully when you hire us as your domestic shifting and relocation partner. There are many packing and moving companies in Ludhiana, and you can compare the features and services, along with the price variations to get the most desired service on your part.
We also work during the festivals and holidays, and as one of the top 5 packing and moving companies in Ludhiana, you can see how diligently we shift your office items and furniture to the given location. Ludhiana is growing as a city day by day, and so are the official, industrial, educational, and entrepreneurial needs. Hence, when you work with us, you can see the exact transparency with which we work. We have already set the benchmark for giving the best services to the growing customer requirements, and with every passing day, our client feedback and customer satisfaction tell us that we are working in the right direction. Since we provide a large volume of international shifting, we provide a reliable transportation network through road, rail, water, and air, as the possible sources through which we can serve our clients. In addition, if you have any query, you can always check out the best deals that we offer during any festive season, or if you have any special request for discount from us.
Affordable Packers And Movers in Ludhiana
Since we focus more on creating a trustworthy client base in and out of Ludhiana, our name and the range of services have also spread far and wide. Haryana Logistics Packers and Movers Ludhiana is now one of the household names for which clients come to us, discuss their exact packing and moving needs, and ask us for the latest developments in the packing and shifting sector. The upgraded vehicles that we have are equipped with high-quality, strong containers in which all your items can be carried safely. In addition, there is always someone from our company team to monitor the whole process of transition. The constant update regarding the location, reachability, and the final destination where your goods have reached is updated via sms, e-mail and also via telephone if you want to call us. Check out our website now and negotiate the deals that we can provide you at the moment.
After booking our team visit on your place to observe and start plan for make all your items pack and move. We work in systematic order. We have well trained and experienced staff and We all obey their customers. We try to makes every efforts to make there every customers satisfy. We use numbers of latest tools and equipments for packing, loading, and reloading all the items. We have past experience in shifting of household items, office items, factory items, or We used to shift other luxury items. We have their team of well trained for packing every kind of items and for packing We use best quality stuff and after packing We name all the cartoons with their containing items. We soundly pack all the items and also make the list of all the items. We also provide the services of goods insurance in reasonable price. We are best packers and Movers Company in reasonable price.
We are legally approved company by government. If you are thinking to shift then you must go for the Haryana Logistics packers and movers in Ludhiana. We are best packers and movers in reasonable price. If you are thinking to shift your office from one place to another then it not easy to shift you must hire a company who delivers you the services of packing and moving and soundly and safely shift your office. There are numbers of companies for providing you the services of packing and moving in Ludhiana. But to choose the one reliable with affordable price is not easy. Here you will get the solution of your doubt.
You must go for Haryana Logistics packers and Movers, We delivers best services. We soundly manage all the items and maintain the complete transparency with their customers.
Are You Looking for Shifting In Ludhiana
We have a huge network of packing and moving, shifting and relocation works, that include places like Mohali, Raikot, Abohar, Faridkot, Sangrur, Amritsar, Dhuri and Firozpur. All kinds of safety and precautionary measures are adopted from our part when you hire us for professional packing and shifting solution. The storage provides high-tech security, there is no breakage or damage or dent to your car, or to any of the other items that you keep with us. All our containers and warehouses are well-ventilated, so that all your items remain safe with us, and there is no tampering with the materials, or what remain inside. There is always some kind of out-of-the box thinking that we do, and all this is because of the visionary output of our founder. You might have seen multiple companies operating in Ludhiana, but we at Haryana Logistics Packers and Movers give you some of the most exclusive packages that you need. For instance, when you shift your car or bike by hiring us, you do not find any scratch or dent on the body of your vehicle. There is proper packaging and shielding that is done, and you can take a constant look at the fleet of well-modulated trailers that we have. For office relocation also, if you decide to hire us, then you find that we work tirelessly under pressure, giving you the most suitable packaging options where all your confidential paperworks remain safe.
So take your decision carefully as your one single carelessness can create a big problem for you in future. From so many packers and movers, there is one of the top packer and mover in Ludhiana for shifting all the items like– house shifting, office shifting, commercial shifting, local shifting, car/bike shifting or any other transportation service in India. We shift items in local and also in interstate. We always known by their loyally and faith towards their customers.
From so many of packers and movers in Ludhiana the one and only Haryana Logistics packers and movers is the best of best. As packers and movers in Ludhiana took all the responsibilities while shifting. The Haryana Logistics packers and movers have years of experience in this shifting process and we never ever done any carelessness while shifting and reloading all the items. We carry many of important documents, or other some luxury items and handover all the items carefully to its owner.
We provide our best services in affordable price. You can take your decision to go for packers and movers in Ludhiana to make any kind of items shift. We complete all the shifting process on time and it is all possible only due to their well trained team. We also make their customers ensure by saying then if any item damage, lost then the amount of that there company will pay. We not only say but we also give their customers in agreement also.
We are one of the top class and renowned packer and mover in Ludhiana, who provides the right insurance facility that you need. Mohali, Amritsar, and Firozpur are already some of the busiest locations where the demand for trained packing and moving companies is growing day by day. To add, you now have complete professional international shifting from us, and we leave no room for your complaint in case of both domestic and commercial shifting process. For all types of global shifting solution and to cater to the international demands, we have our own dedicated team of experts who know how to move on with the packing and shifting on an international scale. There are teams that are solely dedicated to each and every segment of your packing and shifting need, so that you can remain safe and relaxed at your home while we do the work. We are a part of Siwach packers and Movers in Ludhiana which provides all types of Shifting and Packing Services all over Punjab as well as in other cities of India at affordable price.
Packing & Moving
Local Shifting
International Shifting
Car/Bike Transport
WareHouse Storage
Insurance Servicee
Loading & Unloading